As a little girl I was a tomboy. I loved to play the same games as boys , neighbors from my mansion. Our favourite games were basketball and even football. Yes, I was playing a football in the street as a little girl !!!

My story as a woman started about twenty years ago in the central of Poland. Those days I did not realize how significant impact on my life could have my femininity. My breasts started to grow and surprisingly they did not want to stop the process of growing for a long time.

The first unrequited love in a primary school made me aware that there are things in life which we do not have influence on. But luckily we do have a power to manage the majority of things in our life.

You may not believe me ,but my breasts were carefully concealed by me. It was changed only when I was about sixteen years old. In a high school, my first interest in my person as a woman (especially among fellows from senior classes) gave me the signal that I should not hide any more what I was generously endowed by nature. Those days my bra cup size exceeded all possible available sizes. Since then I have to order the bras to sew individually for me. It was not possible any more to conceal breasts even under a thick sweater in winter, not to mention about hot summer days and thin summer dresses.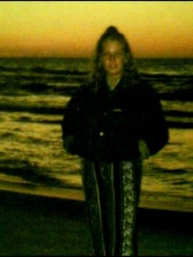 I may say that the full consciousness of my big physical advantage have come to me quite late.
I remember that when I was nineteen years old, before taking exams for the certificate of secondary education, I became a fully aware proud owner of a nice and very large pair of natural breasts.
Hundreds of penetrating looks in the street, on bus, train or tram, few courteous accosts on the street confirmed to me that I am not allowed to consider breasts concealing any more.
On the contrary:
every man or even a woman impressed by my bust gave me a true delight and "unwritten commitment" towards them to dress short skirts, a tight-fitting clothes often with plunging neckline.
On the other hand during that time I became convinced that my attraction to the most of men was totally physical ie.I was touched by a man in a tram. I did not allowed him to do that. He quickly apologized me for this uninvited touch. Or even a girl – when I was dancing in a club I was suddenly embraced and kissed by..a girl…mysterious moment.
There were also more proofs on my breasts influence on men. My dentist and former teacher were forced to hide their admiration for a long time, but finally they dared to tell me about their fascination about me. That were a nice confessions and our acquaintance ended with a hug or kiss in the cheek. But I had to find a new dentist…
In my mid-twenties I started to think about photo modeling. My breasts were excluding a fashion modeling carrier. Some adult themes producer got my number from a model agency and was insisting for a few weeks on a meeting with me. Finally we met ,but his proposal was against my principles.
Photo modeling issue was postponed in my life for next few years.
Photo modeling issue was postponed in my life for next few years. During that time I made some amateurs pictures.
Almost at my thirties I had professional photo session…

Now I am in early thirties . I was told that this is the best age for a woman. My sign of the zodiac is: Scorpio. Passion, secrecy ,lack of discernment, inexhaustible energy, sensuality are strictly connected with that zodiac sign. Who knows me in person can confirm that these features are represented by me.

Few months ago I considered life experience concerning my voluptuous figure .

I know there is a strong need My Dear Reader to admire such shape of a women's body. I fell your strong need and I am very very willing to fulfil your dreams about a woman with huge natural breasts. I am here to give you an excitement and listen to your needs. My look, my smile, my body- especially breasts of course- are dedicated to you here. I will go into raptures about your pleasure you got seeing me topless or wearing a tight tops. Waiting for our mutual delight.


Yours
Abbi Secraa